| | |
| --- | --- |
| Model Railways | |
As a kid I had a model railroad for many years and absolutely loved it. Like all model railroads it was never really finished, but it was a reasonable effort looking back and if I had the time, inclination, space and money I'd happily start building another one tommorrow.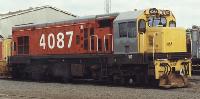 In fact for a year or so I've been considering a shelf-top N-scale jobbie to run along one wall of my office. It would have to be based on NZ rail of course, set locally, and definately in the diesel-electric era. Commercial use of the 411km electrified section between Palmerston North and Te Rapa began in June 1988 so I may consider running an EF electric loco or two.
I'd have to include some sort of local industry in the layout, probably Te Rapa dairy, Te Rapa freight terminal, I guess a passenger station (Frankton) and maybe some sort of coal hopper service to Huntly.
What to Buy?
There are loads of N-Scale offerings on trademe so I really need to know what to look out for as far as filtering out the lame stuff goes. On the loco front seems like Atlas, Lifelike Mircotrains and Kato are popular, Bachman and Athearn are not.
There are some good American matches for our NZR Locos, EMD SD9s are similar to our Da class and GE U30Cs are very close to our Dx's as are the Alco C628s
One obvious thing is couplers as there seems to be a couple of popular (but incompatible) systems, Rapido, Micro-Trains and Magne-matic. Sounds like the Rapidos have some sort of vertical connection mechanism and are more prone to de-coupling if car heights differ, plus it sounds like they are less to scale than the other knuckle-type couplers. A number of posts on the yahoo-groups list mention rolling-stock Manufacturers switching from Rapido to MT or Accumate.
NZ Sites
NZ Suppliers
US Suppliers
General
RR software
---
See Also: NZR Locos | Notes Index