| | |
| --- | --- |
| Network Media Players | |
Have been considering setting up a PC based media player system in the lounge for awhile now, but was put off by the thought of an XBox or Windows Media Centre based solution. There are a few cheap and nasty looking media-players that integrate with a TV so I thought I'd suss out which ones are avail in NZ at the moment:
Zensonic Z500
The Z500 machine is built by an Aussie company and looks the business, supports PLS (shoutcast) and ASX files (Windows Media Metafiles) which would be great to setup streaming from the PC in the office. Seem to be a few complaints in their forum about PSU issues and some streaming performance but it is a brand new product so I guess some time and a few firmware upgrades may resolve these.
http://www.zensonic.com/players.php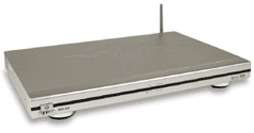 D-Link DSM320
There's also a wireless media player from DLink, has been out for a year or so now, seems pretty solid but some complaints about the wireless performce, has an ethernet port too so I guess on a 100MB cable connection it should be sweet.
http://pcu.co.nz/store/product.php?product=2399
Uniden Buffalo
Yet another machine with the same wireless and ethernet connectivity, plays all the same formats but also has support for Air-Station-One security, plus it has a built in DVD player. There's a review of it at Toms Networking
http://www.ascent.co.nz/productspecification.aspx?ItemID=340365
See Also:
---
See Also: Notes Index