| | |
| --- | --- |
| GT4 Line-up | |
Being the worlds most fabulous man, and of amazingly deep pockets, my sports car garage currently consists of the following regularly thrashed lineup, roughly in reverse order of when I procured the beasts. (check out this complete list of cars for prices and details)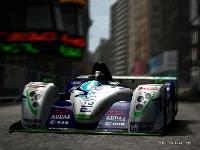 Pescarolo C60 Judd
After slogging through most of the endurance races I finally saved up the $4,500,000 required to buy myself a brand new Le-Mans style racer, and after shopping around decided on a Pescarolo. Outright grunt aint any better than the Toyota but tire-life is craploads better which makes for fewer pit-stops and less overall time which is what its all about. Great machine.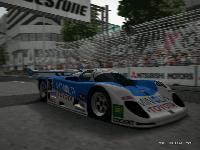 Minolta Toyota 88C-V
I'd been banging around in the Jaguar race car in the various endurance series trying to save for my first GT car purchase and won this Toyota in one of the races. Seems to perform a little better than the Jag, love the looks of it, and it sounds pretty mean, so switched to it to carry on saving up for a new car.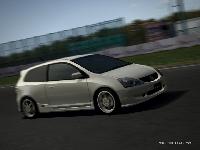 Honda Civic Type-R
Another machine I actually paid for, the Civic really rocks, didnt tune it out to the max, it performed well without too many mods, love the style and it handles brilliantly.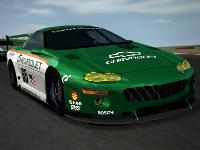 Chevrolet Camaro LM race car
I'd been putting off racing in any of the American league stuff for ages but after winning this Camaro race car figured I might as well dive in. Its got some go, and sounds ok, and Green is my favorite colour :-)
Jaguar XJR9 Race car
For weeks now I've been trying my damdest to beat the GT cars in the final event of the GT series under 'Professional Events' and now I'm finally making headway with the Jag XKR9 after winning it passing the 50% completion mark. Wow, this thing honks.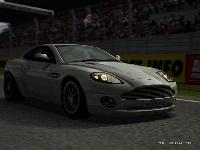 Aston Martin Vanquish
What is there left to say about the Vanquish after hearing the top-gear lads dribble over it and after seeing James Bond strop round on the ice in one. Very nice piece of kit, actually paid hard-earned prizemoney for it, and no regrets.
Mercedes AMG GTR
This is mean piece of kraut machinery, is the prize for winning the German touring car champs, makes about 1000HP fully tricked out, top speed of over 330kph, bit of a handfull on Nurburgring though.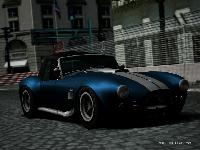 AC Cobra 527 '66
This was a relatively recent purchase, I'd been struggling to win the classic car (pre '70) series until one race which was won easily by a Cobra, splashed out, hotted up and never looked back. Best sounding of the machines by far
BWM M3 GTR
Had just bought a M3 CSL when I thought I'd try one of the German series, won that and lo and behold the prize car was a GTR, this thing rocks, its fast, stable, corners wickedly and is by far the quickest for me round Nurburgring. Sehr Gut!!!
Ford GT 05
This is another machine I bought after having trouble winning the Supercar series, had been trying with an Aston Marton and a Porsche but it wasnt till I bought a GT that I was
Ford RS200
Legendary car which was a prize (cant remember where), handles like a dream, been mostly using it in street trim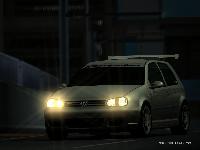 HPA GTi Golf
this is a beasty HPA tuned Golf that was the 1st serious tuned machine I bought, has seen me well on the money earning front to attack other racing categories but not been using it much lately
Mercedes 190e evoII AMG
This was another prize jobbie, well setup, pretty competative for an old fellah, hoping to enter it in the German touring car series
Holden Monaro CV8
My Dad bought one of the 80's models of these brand new so I've got a soft spot for the Monaro, 1st machine I spent actual hard earned cash on to get to max trickiness.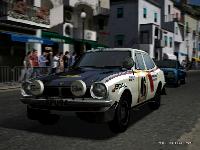 Mitsubishi Lancer GSR '74
Won this thing in a Mitsi comp of some sort and absolutely love it, best fun of all these machines to drive in the twisties, turns on a dime and is light as buggery
Nissan 350Z
This thing is a fully tricked out tuned 350Z that puts out about 900HP and goes like a bloody rocket. Paint job is a bit suss but when you're up against the big boys this is the car I'm using
Porsche/RUF RGT
This is the highest spec of the production RUF machines you can buy, very cool, cant quite master the handling though which is a bit lame so will have to work on that.
Renault Clio
After tricking up the GTi Golf this was the next Euro hatch I blasted around in. Awesome cornering, stops on a dime, perfect on the tight city circuits and pretty quick on the earlier parts of Nurburgring, Good value.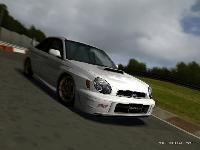 Subaru WRX STi
What self respecting kiwi wouldnt buy a WRX if they had a spare $500k or so lying about. This thing kicks ass on the Rally circuits of course, and is good fun on the hilly mediteranean street circuits too.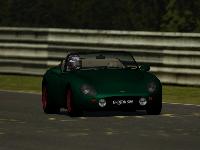 TVR Griffith 500
One of the 1st decent cars I bought on the 2nd-hand market was this beauty green Griffith, sounds cool, wickedly light, and lots of go. Good fun.
TVR V8S
After driving the Griffith for awhile I ended up picking up this V8S on the 2nd-hand market too, handling is even better, actually won the TVR manufacturer series using it
---
See Also: Play Station | Notes Index